---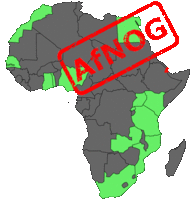 ---
Introduction
This course on Scalable Network Infrastructure is part of the AfNOG 2014 Workshop on Network Technology, held in conjunction with the AfNOG meeting in Djibouti, Djibouti, in May 2014.
We use hands-on training in a well-equipped classroom over a five-day period to teach skills required for the configuration and operation of large scale networks connected to the Internet.
The topics covered include: Basic routing; OSPF routing; BGP routing; Management of router configuration; NOC (Network Operations Centre); Internet Exchange Points between networks; Network Security.
Who should attend: Technical staff who are now operating a wide area TCP/IP network, likely with international and/or multi-provider connectivity. Those who will be involved in the establishment and/or operation of a basic national network infrastructure in the country.
Prerequisites: Experience using TCP/IP-based networking technologies.
Course Documents
Instructors
Alan Barrett (South Africa) [APB]
Nishal Goburdhan (South Africa) [NG]
Frank Habicht (Tanzania) [FH]
Patrick Okui (Uganda) [PO]
Participants
Group A/1
Brian Masiga (UG)
Group B/2
David Moses Gaamuwa (UG)
Group C/3
Ghislain Nkeramugaba (RW)
Group D/4
Charles Gawu-Mensah (GH)
Group E/5
Joan Masai (KE)
Group F/6
Nelly Njoroge (KE)
Group G/7
Saitoti Chemut (KE)
Group H/8
Akeem Olapade Mufutau (NG)
Group I/9
Maher Kassim Mohamed (DJ)
Group J/10
Humphrey Muhindi (KE)
Group K/11
Mohamed Amin Abdisamad (SO)
Stephano Zgambo (MW)
Group L/12
Mohamed Hussein-Adil (SO)
Ali Hassan Farah (DJ)
Group M/13
Justice Novisi Dzitrie (GH)
Jabhera Matogoro (TZ)
Group N/14
Dawit Bekele (ET)
Nelson Oseh (NG)
Group O/15
Hasan Mohamud Sufi (SO)
Luqman Mahama (GH)
Group P/16
Wilfred A. Glover-Akpey (GH)
Alhassan Osman Alhaji (GH)
---