---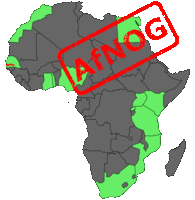 ---
Introduction
This course on Scalable Network Infrastructure is part of the AfNOG 2012 Workshop on Network Technology, held in conjunction with the AfNOG meeting in Serrekunda, Gambia, in May 2012.
We use hands-on training in a well-equipped classroom over a five-day period to teach skills required for the configuration and operation of large scale networks connected to the Internet.
The topics covered include: Basic routing; IS-IS routing; BGP routing; Management of router configuration; NOC (Network Operations Centre); Exchange points between networks; Security.
Who should attend: Technical staff who are now operating a wide area TCP/IP network, likely with international and/or multi-provider connectivity. Those who will be involved in the establishment and/or operation of a basic national network infrastructure in the country.
Prerequisites: Experience using TCP/IP-based networking technologies.
Course Documents
Instructors
Alan Barrett (South Africa) [APB]
Geert Jan de Groot (Netherlands) [GJ]
Nishal Goburdhan (South Africa/Mauritius) [NG]
Isatou Jah (Gambia) [IJ]
Maina Noah (Uganda/Tanzania) [NM]
Patrick Okui (Uganda) [PO]
Participants
Abdoulie Boye (Gambia)
Achiki Cornelius Matongo (Kenya)
Adewole Oluyemi Adekola (Nigeria)
Alieu B. Joof (Gambia)
Andrew Kim Kwakye (Ghana)
Augustine Jatta (Gambia)
Buba Bayo (Gambia)
Demba Sonko (Gambia)
Dennis Mugambi Kaburu (Kenya)
Dodou Faal (Gambia)
Doreen Chimaliro (Ms) (Malawi)
Esther King (Ms) (Gambia)
Idowu Felicia Adebukola (Ms) (Nigeria)
Iliya Ishaya James (Nigeria)
Isaac Armah-Mensah (Ghana)
Joseph Katedi Masoga (South Africa)
Karim Oustouh (Morocco)
Lamin K Sonko (Gambia)
Lawrence Lartey (Ghana)
Mohamed Faye (Gambia)
Muhtarr Kah (Gambia)
Musa Baldeh (Gambia)
Noellar Kappa (Ms) (Uganda)
Nthabiseng Pule (Ms) (Lesotho)
Osseh Lamin Camara (Gambia)
Pa Amat Jagne (Gambia)
Seedy Jadama (Gambia)
Seedy Saho (Gambia)
Sering Habib Harding (Gambia)
Seringe Saine (Gambia)
Solomon Kofi Richardson (Gambia)
Sulayman Bah (Gambia)
---